The Thai Language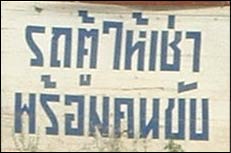 Though it's not really necessary to get by, you will undoubtedly have an easier and more enjoyable experience in Thailand from any time you spend learning Thai. Most Thais don't expect a foreigner to be able to speak any of their language, and are often visibly surprised if you can string a few sentences together. It's also encouraging how many people will tell you that you
poot tai geng
(speak Thai well), no matter how limited your command of the language really is. Even with only a fairly small vocabulary, you will find it a lot easier to get discounted prices at shops and
markets
(
rah kah poot tai dai
, "Thai speaker prices) and to make friends amongst the locals.
Thai, like Chinese and Vietnamese, is a tonal language meaning that the same word can have a completely different meaning depending on it is pronounced. In total, there are 5 tones: Mid tone, high tone, low tone, rising tone and falling tone. A common example of the difficulty of tones in Thai is the word
mai,
whose meanings include "wood", "not", "silk", "burn", and "new" depending on what tone is used to pronounce it.
It's not always this bad though, and the context means you will often be understood even if the tone is wrong. In some cases though, the context is unlikely to help very much and you will have to get the pronunciation correct in order to be understood -
glai
(mid tone, meaning "far away") and
glâi
(falling tone, meaning "near") is a good example. It takes a long time to learn how to pronounce the tones correctly, and it's all too easy to make an embarrassing faux pas or inadvertently offend simply by getting the tone wrong on one word. Luckily most Thais realize how difficult it is for foreigners to speak their language, and are generally quite tolerant of any mistakes - which is just as well really.
Though there's no real way to know how to pronounce the tones except by listening to a native speaker, the rising and falling tones tend to be the easiest ones to pick up. The rising tone is approximately similar to the inflection used in English to indicate a question, the falling tone roughly like calling someone's name from far away. The low and high tones are respectively pronounced near the relative bottom and top of your vocal range.
Try to avoid speaking slowly and hesitantly, as this will distort the tone on the word and make you much more difficult to understand than if you spoke confidently. When speaking fairly quickly even the Thais routinely don't pronounce each and every tone, as there's simply not enough time to do so. If your tones aren't perfect, you stand a much chance of being understood by talking at the same normal speed, rather than hesitantly. You'll know you're well on the way to getting it right if you start being told that you
poot tai chat
(speak Thai clearly) rather than simply
geng
(well).
Tones on this website are indicated using tone marks on the first vowel of each syllable. If there is no tone mark, it is pronounced with a mid tone. Other tones are shown as follows:
mái - Pronounced with a high tone.
yài - Pronounced with a low tone.
glâi - Pronounced with a falling tone.
sŏon - Pronounced with a rising tone.

Grammar

Phrases