Banglamphu district
Banglamphu's most well known place is the (in)famous Khao San road ??????????, about 10 minutes walk north of Sanam Luang, This is home to a lively travelers scene, and a mass of budget accommodation is here. Some love it, some hate it but it's worth walking down even if you don't plan to stay here. A extensive market with a huge range of goods, from cheap clothes to Thai handicrafts, inexpensive restaurants and all the different types of people that come here can make it a interesting experience. Somewhat surprisingly, the nearby backstreets retain a genuinely Thai feeling, much more so than Bangkok's other main tourist accommodation areas, Sukhumvit and Silom.
About 5 minutes from Khao San stands the 24m tall Democracy Monument. ?????????????????????. This dominates busy Ratchadamnoen Klang road, and was made to commemorate Thailand's 1932 switch from absolute to constitutional monarchy. Equally noteworthy, but for the wrong reasons, is that it was here that many Thais were killed protesting against a military coup in 1992. The design is of a large copper tray (which weighs 4 tonnes) carrying the constitution, supported by a pedestal. It's a bit of an effort to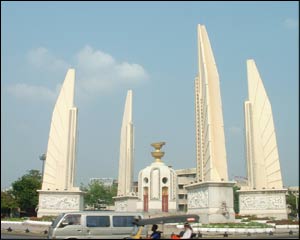 reach the monument if you want to get close though, as it's in the middle of a traffic circle that always throngs with traffic.
Further down Ratchadamnoen road is Wat Ratchanada ?????????????? and neighbouring Loha Prasat ??????????. Wat Ratchanada is not in itself especially worth visiting, but is interesting for the amulet market in the south of the courtyard. There is a large range here, and the ones perceived as most valuable will sell for many thousands of baht. Even if you've no intention of buying, it's worth a look. The nearby Loha Prasat, 'metal castle', is hard to miss as it's an impressive structure resembling a multi-tiered wedding cake.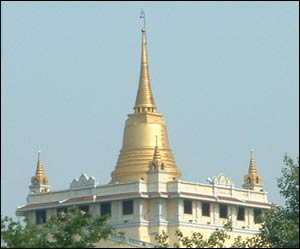 Cross over a couple of roads from here to reach the bottom of the artificial hill known as the Golden Mount (????????). This is almost 80 meters high, and was the highest point in Bangkok at one time. It was originally designed by King Rama III to be the greatest chedi (golden spire) in all of Thailand, but it collapsed due to Bangkok's sinking ground. Nowadays there's just a much smaller chedi on top of the remains, and you can climb the 320 steps up to the top of the Golden Mount for impressive panoramic views of Bangkok. A lively festival at nearby Wat Saket each November involves a procession up the Golden Mount.
The Giant Swing ????????? lies on the fringes of Banglamphu, about 5 minutes walk from Wat Ratchanada. Nowadays the it's just two high wooden red pillars with no swing attached, but historically was home to an annual ceremony where a bench was suspended from the swing and gold coins hung on a 15m high bamboo pole nearby. Teams of young men would then swing high to try and catch them - using their teeth. It turned out to be about as safe as it sounds, and was subsequently banned.
To the east, and almost in Chinatown, is what has become known as Monks Bowl village ????????. This was originally established by King Rama I as an area where monks black alms bowls, used to collect food, were made. It has shrunk in size since then due to the cost and time of producing these bowls by the traditional method. Nowadays they are being replaced by more modern techniques, but it is still possible to see the bowls being made traditionally. They, and other religious items, are on sale in the streets around here and cost around 500B.
Dusit district
Close to Banglamphu, the elegant 81-room Vimanmek Palace is Dusit's top attraction, and it is billed as the largest golden teakwood mansion in the world. It's European in style, and is filled with an amazing collection of pieces of art, jewelry, antiques, paintings and photos from Europe and elsewhere. Also in the compound are the Royal Carriage Museum and the Abhisek Dusit Throne.
A little to the south of Vimanmek, on Ratchadamnoen Nok road, is a statue of King Chulalongkorn. Nearby is Suan Amporn, a large park used frequently for royal social functions. Also round here is Ananta Samakom, the National Assembly building.
About 500m away, across Rama V road, lies Chitralada Palace ????????????????, home to the much-loved King Bhumibol and Queen Sirikit. It was built by Rama VI, and the grounds are huge, substantially bigger than, for instance, Lumphini park, Bangkok's biggest park. Much of them are used for farming projects and research most of the time (these are to try and help the Thai's dependent on agriculture, and have large amounts of his own money invested in them). The Palace is low profile, partially obscured and is closed to visitors. The grounds are surrounded by a moat and high fences.
Bangkok's zoo, also known as Dusit Zoo is between Vimanmek and Chitralada Palace. It's a reasonable way to spend some time, with more than 300 types of mammals. Highlights include Asian animals such as rhinos, orangutans, elephants and monkeys. There's a lake in the middle also, with paddle boats available for hire. It's a bit let down by the poor conditions some of the animals are kept in - Safari World, north east of Bangkok, is really a better place for animal spotting if you have time.
Around 1km south down Rama V road lies the popular Wat Benchamabophit, built with Carrara marble meaning it's also known as the 'Marble Temple' (no doubt also because Benchamabophit is not the easiest word for non-Thai speakers to pronounce correctly). Outside, there's a huge bodhi tree (The tree under which the Buddha attained enlightenment). Early morning is the best time to visit when activity is generally in full swing as it's one of very few temples where the people come to the wat to give food to the monks, rather than the monks going out themselves.
Ko Rattanakosin district
The Ko Rattanakosin ???????????????? area is the oldest part of Bangkok. Located by the river, this is where most of Bangkok's main historical attractions are, for example Wat Phra Kaew and Wat Pho. These impressive sights aren't the only things to see around here though, and other sights are within easy walking distance.
You might recognise 'Ko' as the Thai word for 'island', so named as this area once contained extensive canals. Nowadays most are filled in and you'd be hard pressed to realize what there used to be while walking around it.
Just to the north of Wat Phra Kaew is the large park known as Sanam Luang ????????. For most of the year it's nothing special and barely worth a visit, though the spires of Wat Phra Kaew certainly provide it with an impressive backdrop. It's a somewhat more colorful place during February to April when it's a popular place for kite flying.
At the southeastern corner of Sanam Luang, and close to the northeastern point of the Wat Phra Kaew compound, is Saan Lak Meuang ????????????, the 'city shrine' and the official center point of Bangkok from which distances to and from Bangkok are measured. It it is believed to grant peoples wishes and so receives large numbers of worshippers. There's always floral tributes piled up, and the smell of the burning incense fills the air inside. This is especially so in the couple of days leading up to the lottery draw.
A short way away is Wat Mahathat (??????????), interesting for the large amulet market it houses. Best visited on weekends and the occasional Buddhist holy day, when it extends to nearby Phra Chan road. Found here is a fascinating range of food, clothes, amulets, talisman, herbal remedies, Buddha images, and alms bowls and orange robes used by monks.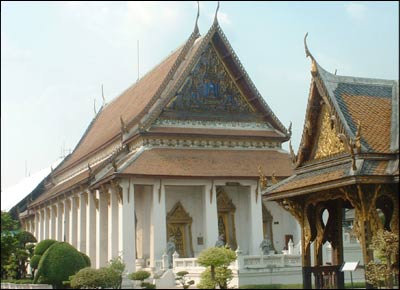 The nearby National Museum claims to be the largest of it's kind in all of South East Asia, and serves as a good place to learn about the full range of Thai culture, history and way of life. The first building includes the museum's star exhibit, the Inscription No. 1 from the Sukhothai era. Supposedly written by the great King Ramkhamhaeng himself, it is regarded as the Thailand's first work of literature. It describes the greatness and prosperity of the Sukhothai kingdom, and the benevolence of the King. All Thai school children are taught the famous opening lines, nai naam mee bplaa, nai naa mee kao ?????????? ?????????? meaning 'in the water there are fish, in the fields there is rice'.
Other highlights of the museum include impressive murals , recovered jewelry and gems, giant shadow puppets, weapons, ivory, royal possessions, musical instruments, and Asian art and antiques through the centuries.
Nearby is the National Theater ???????????????, where authentic classical Thai dance and music can sometimes be seen, and the National Art Gallery where contemporary and traditional Thai art is on show. Silpakorn Fine Arts University ??????????????????, also near Tha Chang pier is another place for this.
Further north still on Na Phra That road is Thammasat University ?????????????????????, Thailand's second most prestigious after Chulalongkorn University. It's notable for the radical reputation of its students, and in an infamous incident hundreds were killed or wounded here by a Thai military crackdown in 1976. Visitors are free to tour the grounds of the university.
Chinatown district
Lying south of Dusit and Banglamphu districts, the Chinatown (???????) district is one of the oldest areas of Bangkok as Chinese merchants were originally moved to this area in the early 1780's when Bangkok was founded. One of the main streets of this area, Charoen Krung (translating as 'Prosperous city'), was actually Bangkok's first paved road, so it's English name, New Road, couldn't really be more inappropriate nowadays. The area has got a somewhat seedy historical reputation for large numbers of opium dens, brothels, pawnshops and a fondness for gambling. Today, gold shops and pawnshops are still very popular in Chinatown and can be found almost anywhere. Drug dealing, prostitution and gambling (all now illegal in Thailand) are also still thought to be widespread in this area, though they are not likely to be very noticeable to the average visitor.
Nevertheless, Chinatown remains a pretty interesting area to visit. With the exception of Wat Traimit, it's almost completely untouristy, though this has the downside that most people round here speak very little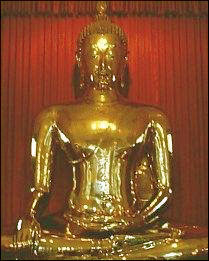 English. Though the main roads are not very dissimilar to those of other parts of Bangkok, the genuine Chinatown lies down the busy numerous smaller roads, narrow alleys and backstreets. The Chinese in Chinatown have been living in Thailand for generations, and generally consider themselves very much as Thais - most can no longer speak any Chinese.
Very close to the intersection of Charoen Krung and Yaowarat road is perhaps the only real top attraction in Chinatown, Wat Traimit (??????????), the Temple of the Golden Buddha. At first glance, the 3m high Buddha image in here looks distinctly average and undeserving of the busloads of tourists that visit every day. What attracts them all however, is the remarkable fact that it's made of 5.5 tonnes of solid gold. The story behind the image is that in 1957 a large stucco Buddha image was being moved by crane during development of a port. To the horror of all concerned, the crane operator accidentally dropped the image, sending it crashing towards the ground. Instead of smashing however, the stucco covering merely cracked and in the process revealed the solid gold image hidden underneath. It is thought to have been covered like this during the early Ayuthaya or Sukhothai period, apparently to protect the image from the invading Burmese, and remained that way for several hundred years. Just north of here is Hualamphong (????????), Bangkok's main train station.
Though other attractions as such are thin on the ground, Chinatown is an interesting place to just wander around. A couple of Chinatown's most interesting roads are Yaowarat road ??????????, leading westwards from near Wat Traimit, and Sampeng Lane ?????????, running parallel south of Yaowarat.
Busy Yaowarat road is Chinatown's main street, and has surely one of greatest concentrations of gold shops anywhere, reflecting the love of gold the Thai-Chinese are often thought to have. There's dozens of them, all dazzlingly brightly colored, and with mainly very good prices. There's also plenty of restaurants round here also, where you can get birds-nest soup, dim sum, shark fin soup and other traditional Chinese delicacies.
The narrow, crammed Sampeng Lane was previously infamous for the gang fighting and high numbers of murders that took place here. Nowadays, it's a very busy predominately pedestrian street, with the main danger being the odd motorbike that tries to get past. The street is a hive of constant commercial activity, mostly in textiles and cloth, and while it's not really a great place for buying anything, it's an interesting authentic experience that doesn't seem to have really changed in decades.
The Thieves Market, or Nakhon Kasem is slightly north of the western end of Sampeng Lane. Though legitimate today, it was so named because this was where goods stolen from houses inevitably turned up. It's now a good area for looking or buying Thai or Chinese antiques. There's quite a number of shops and reasonable range of supposedly antique and second hand goods.