Chatuchak Market in Bangkok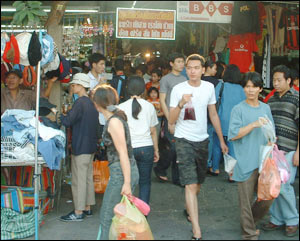 Though there are many
markets
throughout Bangkok,
Chatuchak Weekend Market
is still pretty much the undisputed king of them all. The scale of it is pretty unbelievable - it covers an area of 70
rai
(35 acres), contains more than 15 000 shops and stalls, has over 200 000 visitors each day, and they spend an estimated total of 30 million baht (approx US$750 000). The range of products on sale is extensive, and includes household accessories, handicrafts, religious artifacts, art, antiques, live animals (which unfortunately are frequently caged in cruel conditions), books, music, clothes, food, plants and flowers etc...
Chatuchak is a particularly good place to buy all sorts of Thai handicrafts, as there's a huge range, the quality is high and the intense competition keeps the prices low. Be careful when buying antiques, the large majority on offer are fake and telling the difference between the genuine and the copies can be extremely difficult. Genuine antiques require a permit to be taken out of the country, but you will also need a permit if a fake is good enough to fool the inspecting customs officer.
Bargaining
is expected, if not mandatory, at Chatuchak and the prices are generally substantially cheaper than the shopping centers and street stalls on Silom and Sukhumvit. Many shops in the more centrals areas of the city also have a branch here, selling the same goods for much lower prices.
The published opening hours for the market are from 9.00am to 6.00pm on Saturday and Sunday, though many of the stalls actually open sometime between 9.00am and 10.00am and close around sunset. Chatchak is also open on Friday as a market for wholesalers, but there is no problem doing normal shopping on this day either (same opening times). The Garden Plants section is also open on Wednesdays and Thursday from 7.00am to 6.00pm. Watch out for pickpockets, as even though they're not a particularly big problem the crowded conditions make it easy for them to operate successfully.
Chatuchak has in theory been segregated into areas depending on the types of goods sold, and there are maps available for the market which detail the various sections. You're as well to just forget them and just wander wherever takes your fancy, as it is an extremely disorientating place of many narrow alleys and trying to follow a map around can prove very frustrating.
Chatuchak always gets very hot and humid during the day, and it's far from the most comfortable shopping experience but for most people the benefits outweigh the disadvantages. Going early in the day when it is a bit cooler is recommended.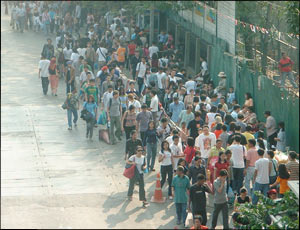 The best way to get here is on the Skytrain,
Mo Chit
station is only about five minutes walk away from the market. Finding your way from the station is easy - just follow the large crowd of people that will also be heading to/from there (right). Alternatively, many buses go past here: Ordinary buses 3, 8, 26, 27, 28, 34, 38, 39, 44, 52, 59, 74, 77, 96, 97, 104, 108, 112, 134, 136, 138, 145 and air-con buses 2, 3, 9, 10, 12, 13, 29, 38, 39, 44, 136 and 138. To get a taxi ask for
suan jatujak
(Chatuchak park, where the market is held), or print out the instructions below and give them to the driver.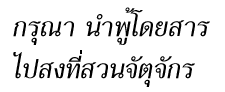 Introduction

Highlights

Shopping

Travel & Getting Around

Districts

Maps

Airport

Crime, Dangers & Scams