Bangkok doesn't lack for markets, and they are generally the cheapest places to shop. This doesn't necessarily reflect on the quality of the goods sold either, and some excellent bargains are for the taking in Bangkok if you know where to look.
Chatuchak Market
Chatuchak Weekend Market is pretty much the undisputed king of all Bangkok markets. The scale of it is pretty unbelievable - it covers an area of 70 rai (35 acres), contains more than 15 000 shops and stalls, has over 200 000 visitors each day, and they spend an estimated total of 30 million baht (approx US$750 000). The range of products on sale is extensive, and includes household accessories, handicrafts, religious artefacts, art, antiques, live animals (which unfortunately are frequently caged in cruel conditions), books, music, clothes, food, plants and flowers etc...
Chatuchak is a particularly good place to buy all sorts of Thai handicrafts, as there's a huge range, the quality is high and the intense competition keeps the prices low. Be careful when buying antiques, the large majority on offer are fake and telling the difference between the genuine and the copies can be extremely difficult. Genuine antiques require a permit to be taken out of the country, but you will also need a permit if a fake is good enough to fool the inspecting customs officer.
Bargaining is expected, if not mandatory, at Chatuchak and the prices are generally substantially cheaper than the shopping centers and street stalls on Silom and Sukhumvit. Many shops in the more centrals areas of the city also have a branch here, selling the same goods for much lower prices.
Need to know
The published opening hours for the market are from 9.00am to 6.00pm on Saturday and Sunday, though many of the stalls actually open sometime between 9.00am and 10.00am and close around sunset. Chatchak is also open on Friday as a market for wholesalers, but there is no problem doing normal shopping on this day either (same opening times). The Garden Plants section is also open on Wednesdays and Thursday from 7.00am to 6.00pm. Watch out for pickpockets, as even though they're not a particularly big problem the crowded conditions make it easy for them to operate successfully.
Chatuchak has in theory been segregated into areas depending on the types of goods sold, and there are maps available for the market which detail the various sections. You're as well to just forget them and just wander wherever takes your fancy, as it is an extremely disorientating place of many narrow alleys and trying to follow a map around can prove very frustrating.
Chatuchak always gets very hot and humid during the day, and it's far from the most comfortable shopping experience but for most people the benefits outweigh the disadvantages. Going early in the day when it is a bit cooler is recommended.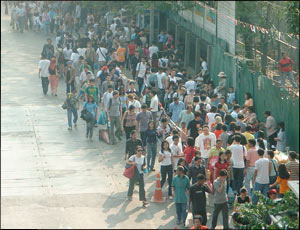 The best way to get here is on the Skytrain, Mo Chit station is only about five minutes walk away from the market. Finding your way from the station is easy - just follow the large crowd of people that will also be heading to/from there (right).
Other Markets
Patpong night market is very popular with tourists, but there's no real good reason why. It's got the same combination of souvenirs, fake brand name items and cheap clothes as in any tourist area in the city, but prices are way over the going rate. Bargaining very hard is essential to get a good deal and the touts for the go-go bars that Patpong is most famous for are persistent, annoying and can be aggressive. Patpong is between Silom and Surawong roads, and any taxi driver will know it.
The 24 hour Pratunam market is situated by the intersection of Ratchaprarop and Phetburi (Phetchaburi) roads, very near to the Amari Watergate hotel. This is notable as perhaps the best place in Bangkok to buy cheap clothes, fabrics and textiles - wholesalers and exporters buy here, as well as individual consumers. The market is not on the main road, look for the entrances that lead to it behind the shops. The Bai Yoke market in the same area sells the same sort of thing. As well as the market, there are many clothes and textile shops in this area. A little down Phetburi road is the Nai Loet (also called Nai Lert) market, a kind of scaled down Chatuchak. If you've already been to Chatuchak there's little point in coming here as the goods on offer are similar, but it's worth a visit if you can't make it up to Chatuchak market proper.
The large Banglamphu market extends over Phra Sumen road, Chakrapong road and others nearby. Despite it's proximity to touristy Khao San road, this is still mainly a market frequented by locals to buy clothes, household accessories etc...There's a separate market on Khao San road itself, which sells anything the foreign backpacker could need including backpacks, stereos, pirate DVSs, books, clothes, traveling accessories etc... Not far away is Bo-Be market, located where Khlong Saen Saep meets Krung Kasem road, a wholesale clothes and textiles market with cheap prices. There are a couple of amulet markets nearby also at Wat Ratchanada and Wat Mahathat (in the historic district).
Across the river from Banglamphu is the Pin Klao - Nakhon Chaisi road area, which has a general market in the area close to the Southern bus terminal ('Sai Tai'). South of here in Thonburi, close to the King Taksin statue roundabout, is another large general market. Tourists are pretty rare in either of these areas.
Pak Khlong market is a very large and busy wholesale market for fresh flowers and vegetables. Many flower vendors throughout the city buy their stock here at night and sell it on the following morning. It's best to go between 2.00am and 4.00am when boats on the Chao Phraya River and trucks from nearby provinces arrive with large quantities of flowers, vegetables, spices, and fruits. These all are piled high inside the market and along nearby streets, making the market very photogenic, though the smell given off by some off the produce can be quite overpowering.
The market takes place where Khlong Lawt meets the Chao Phraya river, next to the Memorial Bridge on the northeastern edge of Chinatown. To get here, either walk south on Maharat road from Wat Pho, take a river taxi to Tha Saphan Phut or ask a taxi to go to bpahk klong dta-laht (Pak Khlong Market) or sa-pahn put (Memorial Bridge). The wholesale market is mainly near the river, the cheap normal market in small streets nearby. The market is over by about 10.00am. Very close to here is the Memorial Bridge night market, a large all-purpose market night market with very cheap prices if you bargain.
Rivaling Pak Khlong as one of the best places to buy flowers in Bangkok is Thewet Market, another place with a large selection of plants, flowers and other related items. This takes place just off the intersection of Samsen road and Krung Kasem road, near Tha Thewet river pier (not far north of Banglamphu). Taking a river boat to Tha Thewet is the best way of reaching it. Another option is Bangrak market, on Charoen Krung road near the Shangri-La hotel. It's not solely a flower market though - meat, seafood, fruit and clothes are all also on sale here. Prices are reasonable for Bangkok, and very cheap for this rather exclusive neighborhood. Also on Charoen Krung road is the stamp market, which takes place next to the GPO on Sundays only.
Penang Market, in the Khlong Toey port district, sells clothes, food etc...but is most notable for the TVs, stereos and other electrical goods on sale here. Prices are very cheap, much cheaper than in department stores and shopping centers. This is due to the fact that most of the products have "fallen" off ships coming into the port, and so haven't been taxed. Check anything you plan to buy very carefully and buy 'as is' - any receipts or guarantees you may be offered are just about worthless. Khlong Toey market is north of Penang Market, at the intersection of Rama IV road and Narong road. The market is very large, but only a small bit of it can be seen by driving past it - it's size becomes apparent once you get out and look around. It's mainly a food market, though a few other things can be bought there as well. It's probably the cheapest place to shop for food in all of Bangkok, but the raw nature of the market means it's not for the squeamish. Ask a taxi to go to klong toey dta-laht or take ordinary buses 45, 46, 72, 102 or 107 which all go to this area.
Chinatown Market
Narrow Sampeng Lane (also known as Soi Wanit) in Chinatown is an interesting place to wander down, and has a colorful history of murders, drugs gang wars and prostitution. Nowadays, it's rather less dangerous as a primarily wholesale market, though you're not likely to find much that you want to buy - on sale are fabrics, textiles, preserved food, household and kitchen accessories, spices, cheap toys etc...It's obviously a good place for any sort of Chinese speciality and prices are cheap, though bargaining for everything is essential. It's worth going just for the experience - it's amazingly busy and every possible space is used in the shops there, street vendors resort to setting up shop anywhere they can. It is always crowded, and so is ideal conditions for pickpockets - take care and don't take too much money with you just in case. The Talat Kao (translating as 'Old Market') is not far away, and is a Chinese food market where all manner of strange foods are available for the brave to try. If you are after Chinese delicacies, such as Shark's Fin, this is as good a place as any to buy them. Many of the nearby restaurants sell the dishes that are on offer here if you want to try them.
Nakhon Kasem, known in English as the Thieves Market, is a second hand market for Thai and Chinese antiques (though most, if not all, are fake) and pawn shop goods, porcelain, brass, furniture, musical instruments and similar items. It's really past it's best now, and is not a particularly inspiring place to shop as many of the better deals have left for more profitable locations. The name comes from the fact that once upon a time this was where stolen goods would turn up, but it's you're unlikely to find anything illegitimate today. Bargain hard. Selling similar types of goods is the Lang Krasuang market, on Atsadang road in Banglamphu. Not all that far from here is Pahurat cloth market, in 'Little India' next to Chinatown. It's basically yet another wholesale market for textiles, and there's a wide selection of all sorts of fabrics, sarongs, textiles and clothes available. The market has mainly clothes, among them a wide selection of from all over Asia. Old Siam Plaza is north of Pahurat and has many gun shops in the area, as well as a market of mainly handicrafts.