Thailand and Bangkok have developed into one of the best and most popular shopping locations in Asia, and with good reason. Prices are low, quality generally high and the range and variety is pretty amazing - silks, gemstones, tailor-made clothes and traditional handicrafts are all highlights of Bangkok shopping. Most shops seem to be open 10.00am to 10.00pm everyday of the week, and nightmarkets carry on even after this time - all very convenient in being able to go shopping at basically any time you want.
Silks, nielloware, lacquerware, silverware, bronzeware, pewterware, pottery, gemstones and jewelry and all types of handicrafts are particularly good souvenirs of a trip to Thailand, while clothes and tailor-made clothes are widely available and inexpensive. Fake goods of all types abound and can be bought at a fraction of a cost of originals. There are different manufacturers of fake goods, so the 'Rolex' watch costing 6000B will be better than the 2000B one, which in turn is superior to the one at 500B.
Most vendors and staff at stores speak good enough English, though non-fixed prices are often bargained by you and the vendor taking turns in typing numbers into a calculator. It's worth learning how to say the numbers in Thai - this is easy, will save the calculator routine and may well get you cheaper prices too.
Street stalls and shops on the street will generally have lower prices for the same product than those paying premium rents in hotel shopping arcades and some higher end shopping centers and department stores. The price difference can also reflect on the quality of the product though.
Duty Free shopping can be done at the Thailand Duty Free Shops Company branch in the World Trade Center on Ratchadamri road. Goods can be pre-ordered here and then picked up at the airport - you have to show your passport and airline ticket in order to make a purchase. It's not really worth it unless you are particularly short of time at the airport.
Many of the larger and more specialized shops now offer shipping abroad, and they will sort out the necessary documents and permits for this. Insurance should also be included. If you don't feel comfortable with this, there are specialized companies that will do it and sort out the arrangements for a fee. The GPO also has a parcel-wrapping service, and smaller items can be mailed from here. Another option is to go Thai Airways office on 485 Silom road and, for a fee, they will ship them and sort out documentation for you.
Buyer Beware
Though there are many good deals on offer, caveat emptor (buyer beware) is definitely a good rule to follow in Bangkok. Fakes passed off as genuine and overpricing are rampant amongst certain valuable items, particularly gemstones, art and antiques. Bear in mind that refunds are very rare in Thailand - goods are sold 'as is' and once you have bought something, that's it. Barring pretty exceptional circumstances, you will have a lot of difficulty in getting any money back, even with a valid receipt. Chances of a refund are best at the big department stores (check their policy beforehand if you think you might need one) and are virtually nil at street stalls and small independent shops. Replacements and free repairs are often the best that can be hoped for, though even getting these can sometimes be a struggle. Don't let a friendly stranger or tout take you shopping either, as they will take a commission on anything you buy. This will result in inflated prices being quoted to you so that the vendor can compensate your 'friend' for his/her efforts.
Gemstones are a particularly risky item to buy in Bangkok, as many tourists are tricked into paying a lot of money for 'gemstones', which later turn out to be fakes (or are real ones, but massively overpriced). Never buy from a store you are taken to by an unsolicited third party, and don't believe any claims they may make of 'government sale', 'TAT endorsed', 'factory prices' etc...People are often tricked into spending large amounts of money with the promise of being able to resell the stones when they return home for a big profit. Don't be fooled by this claim, the stones or fakes you will be sold are worth only a fraction of what you pay for them and any money spent is basically lost. It's impossible, even for qualified gemologists, to tell good fakes from originals without the aid of specialist equipment, so bear in mind you are buying solely on the word of the salesman. The TAT may be able to reclaim some of your money for you if you were tricked into buying fakes, but if you've simply overpaid there's little that can be done. It's wise to be very wary of mailing gems and other precious stones home, as this removes any chance of getting a refund if you have been scammed and they may well never arrive in any case.
A lot of places only accept cash to pay for merchandise, though some more expensive and/or larger stores and department stores do take credit cards. Credit card fraud is a problem in Thailand so, while there is no need to be overly paranoid, it's well worth trying to never let the card out of sight if possible.
Bargaining
Bargaining when shopping is a way of life in many parts of Asia, and Thailand is no exception to this. Though it is gradually becoming less common, it is still something that any visitor will have to get to grips with if you want to get reasonable prices for most things you buy.
In some places prices are fixed (e.g. department stores, supermarkets, generally anywhere there is a price tag) while in a lot of other situations bargaining is expected and necessary to get a good price. Even in department stores and other fixed price situations discounts can be negotiated if you are buying high ticket items (e.g expensive jewelry) or a lot of one thing (you might be able to get 10 CD's for the price of 8 or 9, for instance).
You're in the strongest position if you know what the going rate for an item is, but figure on knocking somewhere between 10% - 40% off the starting price. Except in the most touristed areas (Patpong night market, for example) it is pretty rare that the first price quoted is several hundred percent more than the going rate. The more expensive items can generally be bargained down more. You will help your chances at getting a good price by being patient, friendly, smiling a lot and not raising your voice. Treat it as a kind of game to get the most out of it - getting angry or aggressive will never help to bring the price down. Note that if you offer a price which the vendor accepts, you are then expected and obliged to buy the item. Not doing so is regarded as breaking a promise and will certainly not endear you to the vendor, to put it mildly.
Speaking Thai can also help, as if you look and act like a free spending tourist it may be impossible to get a significant discount (many vendors will give cheaper rah kah poot tai dai 'Thai speaker prices'). Though the asking price for a foreigner is likely to be higher than it would be for a Thai (sometimes considerably so), it's not really two-tier pricing - if you're good at bargaining it's definitely possible to only pay local prices. A good idea to try and gauge the going rate is to compare prices to various other vendors, and see what kind of price the item you want goes for in fixed price stores if possible.
Shopping Areas
There are many places to go shopping in Bangkok, and markets and large shopping malls are spread out all over the city - you're never far from one wherever you are. Anywhere where there is a large hotel will likely have good shopping facilities that cater to foreigners very nearby, though these can be overpriced.
Outdoor markets are almost always the cheapest places to shop (if you bargain), but the quality of goods sold is not always up to the standard of the department stores. Nevertheless, many are worth a visit for the experience even if you don't plan to buy anything. Information on Bangkok markets is in a separate section here.
Supermarkets are reasonably priced, numerous, and the place to go to for things like diary products and imported goods which aren't available at outdoor markets. Hygiene and cleanliness are also of a much higher standard at the supermarkets than the outdoor markets, and they are quicker and more convenient if you have a lot of different items to buy.
The numerous large air-conditioned shopping malls and department stores are popular places to shop, and they are the best places to find high quality merchandise along with shops found in high-end hotels shopping arcades. Prices in shopping centers are generally higher than in markets, sometimes by a little and sometimes considerably. The various main areas for shopping centers are described in detail below:

Rama I road, Ploenchit road, Ratchadamri road, Siam Square area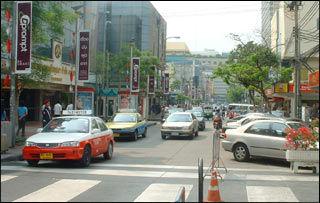 This area, east from the top of Sukhumvit road, is a modern and fashionable shopping district with several large shopping centers. This includes the 8 storey World Trade Center, which houses the Zen and Isetan department stores, Central Chidlom department store, a branch of Bangkok largest chain of department stores, Tokyu department store, Sogo, Narayana Phand store for Thai handicrafts, and the expensive and very upmarket Gaysorn Plaza, Peninsula Plaza, Promenda Decor and Amarin Plaza.
Siam Square is a large modern shopping area, consisting of interlocked sois, and is not really a square at all. It has a collection of cheap to mid-price fashionable clothes shops, a lot of which cater to teenagers. Also around here are book shops, internet cafes, fast food restaurants etc...Not far from here - next to the Tokyu department store - is the massive and very popular MBK (standing for mah boon krong) shopping center. This has a huge range of goods and many varied, inexpensive shops and facilities (including restaurants, cinemas, games arcade and a bowling alley). Nearby shopping centers include Siam Center, also with fairly inexpensive clothes shops, and Siam Discovery, which has more upmarket clothes shops, restaurants and various other shops, including a branch of Asia Books.

Silom road, Surawong road, Rama IV road
This is Bangkok's main business and commercial district, but it's really only an average shopping area. Patpong night market is popular with tourists but is crowded and overpriced - you have to bargain very hard here to get a good deal. The larger hotels, such as the Dusit Thani, Narai and the Montien, have shopping arcades, but these are expensive for what they offer. Also in this area there is the Silom Complex department store, a branch of Central next door to it, another branch of Central not far away, Robinson's Department Store, the Charn Issara tower, the upscale Thaniya Plaza shopping center and many very good silk, antique, and clothes shops.

Silom Village, near soi 24, is a complex of small shops selling antiques and traditional handicrafts. Prices aren't as expensive as in River City (see below) but are still expensive when compared to, say, Chatuchak market.
Charoen Krung road (New Road), Si Phraya road, Mahesak road, western end of Silom road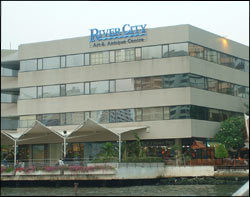 On Si Phraya road, near the Royal Orchid Sheraton hotel, is the 4 storey River City Shopping complex. This is home to a large number of prestigious art and antiques shops and prices are, not surprisingly, very high. It has several good restaurants which are reasonably priced though, and give impressive views over the Chao Phraya river. Oriental Plaza, part of thee Oriental Hotel, is another very upmarket shopping arcade and the shops here mostly sell art, antiques, handicrafts and clothes. Also around here is a street market, selling fake and cheap clothes, cheap handicrafts etc...It's pretty similar to the stalls on Sukhumvit road.

There are many bronzeware shops along Charoen Krung road (New Road) and the western end of Silom road. Quality is generally high, as are the prices - many shops here also have stalls at Chatuchak weekend market, and it is much cheaper to buy there.
Though the western end of Sukhumvit road (between soi 1 and 33) has a lot of foreigners, both tourists and residents, it is not an especially great place for shopping. There are quite a few tourist shops (cheap tailors, camera shops etc...) and up to around soi 11 there are street stalls selling fake clothes, handicrafts and other similar merchandise. On soi 5 is a popular branch of the Foodland supemarkets, a branch of the Robinson's Department Store chain is attached to the Delta Grand Pacific hotel (between soi 17 and 19), and Times Square shopping plaza is just opposite it across the street. There is also the Ploenchit center, near soi 2, and the Ambassador and Landmark hotels shopping arcades, but none are particulary inspiring compared to elsewhere in the city. The new and very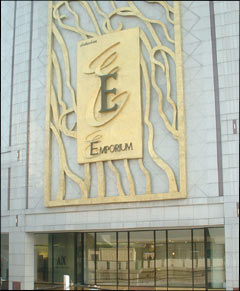 upmarket Emporium shopping center (right) on soi 24 has many quality designer labels, but it's not a cheap place to shop by any means. Further along Sukhumvit road, in the Phrakhanong district around soi 71, is a better shopping area but it's not much visited by tourists. There are a few shopping centers and a market, and prices are cheap. The Bangna branch of the Central department stores is located all the way down near soi 103.
Chinatown (Yaowarat road / Charoen Krung road area)
Chinatown is best visited for it's huge number of gold and jewelry shops, identifable by the gold and red that they all seem to be adorned with. Other than this, the best reason to visit is to wander round some of the markets here, such as the one on Sampeng lane, Pahurat cloth market, Nakhon Kasem/Thieves market etc...There's a branch of Central on Pahurat road, just south of Charoen Krung road.
This is quite a large commercial district, with many shops including branches of Robinsons department store, Tokyu, Jusco, Yaohan and others. It also has the showroom of the Department of Export Promotion for business interested in exporting Thai products.
Seacon Square

At 500 000 sq km, the Seacon Square shopping center claims to be the biggest in Asia and the fifth biggest anywhere in the world. There are hundreds of shops and just about every type of good is available here including clothes, furniture, stereos and TV's, computers, cars, jewelry, food etc...Also on the premises are 14 THX cinemas, a bowling alley, ice skating rink, many restaurants, a huge football-field-sized branch of DK Books with close to 1 million books (not that many English language though), a special 'simulator' virtual reality cinema, mini-golf course, Lotus Supercenter (a supermarket), Robinson's department store, "Yoyo Land" a massive indoor theme park with rollercoasters, ferris wheel, boat rides, flumes and many more. Nearby is the Seri Center, a good place for buying anything computer related.

The biggest disadvantage with this area for most people is it's remote location, way out on Srinakharin road. It will take at least a couple of hours to get here from, say, Ko Rattanakosin, though less from Sukhumvit. It's not even shown on most maps of Bangkok as it's too far out the way, located a long way south-east of Sukhumvit road. Truth be told, there's not that really that much reason to make the long journey as the malls around Siam Square and Silom sell pretty much the same things and, for most people, are much more convenient.

Pantip Plaza and electronics shopping
Computers, TV's, cameras and similar items can be good value in Thailand, but you'll be hard pushed to find one with high quality components selling for significantly less than in the US / Europe. Overall, you're probably better off buying at home than in Thailand, as although you may spend slightly more, you are much more likely to get decent after sales or a refund in case of problems in Europe/US than in Thailand. On the other hand, if you're looking to buy computer peripherals then you can get some good deals in Bangkok, and repairs can be done similarly cheaply.

The best place to go for any type of computer shopping is the multistory Panthip Plaza on Phetburi / Petchburi Rd in Pratunam district (not far from the Amari Watergate hotel). Prices are very cheap and the range extensive, but not all the vendors speak a lot of English.
Though there are a wide range of computer related products on sale, Panthip is most (in)famous for the huge amount of pirated software available. There are literally dozens of different vendors selling pirated versions of software programs and movies.
The Thai government, under pressure from the USA, has periodic crackdowns on Panthip Plaza, but they never seem to last very long.
With a bit of searching, it is possible to also find software originals on sale but prices are no bargain compared to the USA/Europe. IT Mall, in the Fortune Tower on the intersection of Ratchadapiskek road and Asok-Din Daeng road, is another option for IT and computing shopping.