Formerly known as the 'Venice of the East', Bangkok still has an excess of waterways that offer a great way of getting around. River express and canal boats regularly ply several routes unaffected by the constant traffic on the roads, and are very cheap too. Often cited as one of the top bargains available in Thailand is the 1 hour 15 minute boat trip from the pier near the Oriental Hotel all the way up to Nonthaburi, a Bangkok suburb, for only 10B (0.25 US$) per person. The Khlong Saen Saep canal boats go across Bangkok for the same kind of price also.
River express boats
The river boats go up and down the large Chao Phraya river, and there are around 20 main stops. They can be substantially quicker than the equivalent journey by road. For example, a trip from the Grand Palace to the Silom district could easily take over an hour by taxi, while the boat ride will only take around 15 or 20 minutes.
The boats are long, fast, and normally colored white with a red stripe. Fares vary slightly according to the destination, they're between 5B and 10B. Boats seem to come around every 20 minutes, start at 5.30am and the last boat leaves each end at 6pm.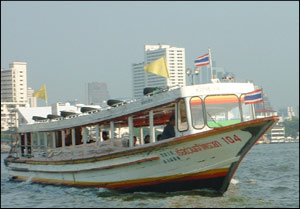 It's very easy to get confused when trying to take a River Express boat. At each pier, there is a cross river service (costing 1B or 2B), these leave almost constantly throughout the day. These are much smaller boats and often fairly empty, and are normally waiting by the pier when you get there. When you see (or hear the whistle of) a River Express boat approaching the pier, don't hesitate as they only wait for a few seconds. Everyone scrambles to get on and off as quickly as possible, and a slight delay will cost you a place on the boat. Tickets can either be bought on the boat or at the pier. Piers are marked in English and Thai, so it's easy to know where to get off.
River express piers
The main piers and their location are shown below, starting from north to south. The approximate pronunciation of the names of the piers is given in italics. The boats won't necessarily stop at all of these.
Tha Thewet
(tah tay-wayt)
This is on the edge of the Dusit area. It leads out on to the large Krung Kasem road, which runs all the way down to Chinatown. It's near the limited accommodation on Sri Ayuthaya road, the National Library and the Thewet Flower market.
Tha Witsut Kasat
(tah wit-sut ga-sat)
This is near Witsut Kasat road, north of Banglamphu and east of Dusit. It's very near a branch of Bangkok's famous Yok Yor restaurants.

Tha Wat Sam Phraya
(tah wat sahm pra-yah)

Situated close to where Khlong Banglamphu meets the Chao Phraya river. It's near Wat Sam Phraya and Wat Sangwet.

Tha Phra Athit
(tah pra ah-tit)

Located just off Phra Ahtit road, this is the pier to get off at for the Khao San road accommodation and the Banglamphu area sights.
Tha Phra Pin Klao
(tah pra bpin glao)
This is located just across the river from Tha Phra Athit, in the Pin Klao district.
Tha Rot Fai
(tah rot fai ton-buri)

This is another pier on the other side of the river. Get off here for the Bangkok Noi (Thonburi) train station.

Tha Phra Chan
(tah pra-jan)
Tha Phra Chan is east of Sanam Luang, in Ko Rattanakosin. It's close to Thammasat University, the National Museum, and Wat Mahathat and it's amulet market.
Tha Phrannok
(tah prahn-nok)
On the west side of the river, this leads on to Phrannok road in Thonburi. It's near Siriraj Hospital.
Tha Maharat
(tah ma-hah-raht)
This is near Silpakorn fine arts University.
Tha Chang
(tah chahng)
This is the pier to get off at for Wat Phra Kaew and the Grand Palace.
Tha Tien
(tah dtee-an)
Go here for the entrance to Wat Pho. This is also the pier for Wat Arun, stop here then take a boat over the river to reach it.
Tha Ratchini
(tah raht-chi-nee)
This is close to the Pak Khlong Flower market, which takes place from 1.00am to 5.00am. It's also close to the Ministry of Commerce.
Tha Saphan Phut
(tah sa-pahn put)
Situated close to Memorial Bridge (Saphan Phra Phut Yot Fa) and Phra Pokklao bridge.
Tha Ratchawong
(tah raht-cha-wong)
This is the pier to get off at to visit Chinatown, it's situated at the end of Ratchawong road.
Tha Harbour Dept.
This is located off soi 22, Charoen Krung road.
Tha Si Phraya
(tah see pra-yah)
This is close to the large River City shopping complex, the Royal Orchid Sheraton hotel, and the Portuguese and Peruvian embassies.
Tha Muang Khae
(tah meu-ang kair)
This is situated very close to Bangkok's main post office.
Tha Oriental
(tah oh-rian-dten)
Unsurprisingly, this is next to the Oriental Hotel, and is also near the French embassy.
Tha Shangri-La
(tah sairng-gree-lah)
A short way south of Tha Oriental, this is the pier for the Shangri-La and Peninsula hotels.
Tha Sathorn
(tah sah-torn)
This is by Saphan Taksin / Taksin Bridge, and is the place to get off at for the nearby Skytrain station.
Khlong Saen Saep canal boats
The main canal route that has a similar kind of service to that of the river express boats is Khlong Saen Saep. This is a very similar service, but operated by longtail boats which tend to be more frequent and slightly more expensive (around 5B to 15B). They're more difficult to get on and off also, due to having to step under a bar direct on to the seats, as compared to the River Express where entrance is onto an open ended platform on the end of the boat. They also make the same rapid stops, and falling into the dirty canal is a distinct possibility if you're not careful. It's often necessary to get off while the boat is still moving, albeit very slowly. Tickets are always bought onboard.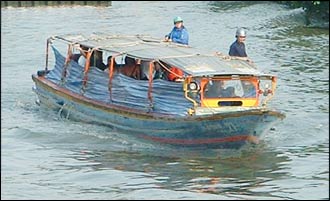 The Khlong Saen Saep boats offer a useful service from Banglamphu all the way across the city to the Ramkhamhaeng University area. The most useful stops for visitors are perhaps, Tha Banglamphu / Tha Phanfa, Tha Saphan Hua Chang, near Jim Thompson's House and MBK shopping, Tha Pratunam, off Ratchprarop road near the World Trade Center, Tha Asok, off Asok road (Sukhumvit Soi 21) and off Soi Ekkamai off Sukhumvit road. This is one of the best ways to get across town, but get on a boat and more often that not, there's no farang on it. This is perhaps due to the fact that very few details of these boats are given in any of the guidebooks, also the piers are a little hidden away, and can take a bit of effort to find. It's not uncommon to have some of the dirty water splashed up on to the passengers also.
The Banglamphu pier is just off Ratchadamnoen road under a bridge, not far from either Wat Ratchanada or Wat Saket. Tha Saphan Hua Chang pier is located under a bridge at the end of Soi Kasem San. Boats going left from here go to Banglamphu, right to Pratunam.
Longtail boats can also be chartered, normally to go on tours round the canals of Thonburi. See the Thonburi section for information about this.