Aside from the well known temples, Bangkok has a range of other cultural attractions that might interest you. One of the most popular is Jim Thompson's House, located on the small Soi Kasem San 2 off Rama I road. Thompson was an American who almost single handedly revived Thailand's silk industry, and can take much of the credit for its worldwide popularity. He had parts of various Thai style teak houses reassembled here to create the house, which now serves as a private museum showcasing his collection of Thai and Asian art, antiques and pottery. It's relatively small though, the National Museum is larger and better.
Thompson is equally famous for his mysterious disappearance in 1967, while on a walk through Malaysia's Cameron Highlands from which he never returned. Conspiracies theories abound, especially as Thompson first came to Thailand as a CIA agent. A more mundane theory is that he was accidentally hit and killed by a Malaysian truck driver, who hid the remains to avoid getting caught. The westernized shopping areas of Siam Square and MBK (Mah Boon Krong) are just a short distance along Rama I road from Jim Thompson's House.
Traditional Thailand
North of Siam Square on Sri Ayuthaya road near the Victory Monument is the Suan Pakkard Palace. This consists of 5 traditional wooden Thai houses with pristine landscaped gardens and lotus ponds, and a collection of art, pottery, sculpture and rare antiques inside. It's all owned by Princess Chumbhot, a descendant of King Rama IV. The Lacquer Palace at the rear of the pavilion is perhaps the highlight with black and gold panels showing life in the 16th century Ayuthaya era.
If you are interested in traditional Thai housing, another good example is Kamthieng house, owned by the Siam Society, on Sukhumvit Soi 21. It's a 120 years old Northern Thai house that now serves a museum for artifacts, costumes and the arts of Northern Thailand.
The celebrated Erawan Shrine is not far away, but is in an unlikely location at one of Bangkok's busiest intersections (of Ploenchit, Ratchadamri, Rama I and Ratchaprarop roads). A shrine to the Hindu god Brahma, it was built after a series of disasters befell the construction of the Grand Hyatt Erawan hotel. After it was built, the hotel was completed without any problems and the shrine has since gained a reputation for granting wishes. Iit's busy pretty much 24 hours with devotees offering flowers and incense. There are traditional Thai dancers that can be hired, normally by those that have had their wishes granted in the past. This was the site of the 2015 bomb blast blamed on Chinese militants, however things were back to normal at the shrine just a few days later.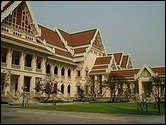 Just south of Siam Square is Chulalongkorn University, the oldest and most prestigious in Thailand. On the campus, there's a Museum of Imaging Technology (showing the development of photography, and examples of modern photographic techniques and methods) and a collection of traditional Thai houses open to visitors. Just south of here on Rama IV road is the Saowapha Institute, more often known as the Snake Farm.
Though this is not the only snake farm in and around Bangkok, this is professionally run and is by far the best. It is affiliated with the Thai Red Cross, and it's primary purpose is to develop anti-venom serum for treating the victims of snakebites. It also makes this a good place to come to if you need rabies treatment while in Bangkok. There are fascinating snake shows put on, which are preceded by a slide show on the institute and it's work.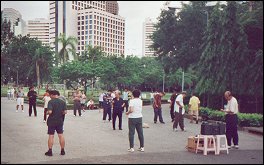 Southeast along Rama IV road is Lumphini Park , the oldest, largest and most popular in Bangkok. It's best to go early in the morning (6.00am - 8.00am), when it's busy with lots of people doing Tai Chi exercises, jogging and weightlifting. Rowboats and paddle boats can be rented for the lakes also. In the hot season (February to April), it's a popular place for kite flying. Lumphini park is also one of the relatively few places in Bangkok where people will still stop whatever they are doing to stand for the National Anthem at 6.00pm.
Near Ekkamai bus station on Sukhumvit Soi 63 is the okay Bangkok Planetarium and Scientific Museum. As it sounds like, this is a museum on science and astronomy and shows are put on at the planetarium.
Across the river in Thonburi
Thonburi (ธนบุรี), or fang ton as it's often called, lies across the Chao Phraya river from the Ko Rattanakosin area, and tours on longtail boats (reu-a hang yao) round it's numerous khlongs (canals) are popular. Few visit it outside of these. It was briefly Thailand's capital in the 18th after the fall of Ayuthaya, until Rama I moved his court across the river to Bangkok.
The longtail boat trips will leave from various piers on the eastern side of the Chao Phraya river, and typically head south and turn into Thonburi past Krung Thep bridge. It's an interesting experience, and gives an idea of what Bangkok might have been like before most of it's canals were filled in.
There are lots of tours available, or go to one of the boat piers and charter one. Any between Tha Oriental and Tha Chang should have places to do this, though Tha Si Phraya, Tha Chang and Tha Saphan Phut are the best. Another place is the River City complex near to Tha Si Phraya. Look out for touts who will get a commission by directing you to a particular place. Bargain carefully beforehand to establish the price; if you're offered a "free guided tour" it will end with a demand for petrol money in the middle of the river which you can hardly refuse. Fair prices are around 300B/400B per boat per hour.
The first stop on a tour may be at the Wat Sai floating market - which died out as a genuine floating market about 40 years ago. It exists nowadays solely for tourists, even the Tourism Authority of Thailand describe it as a place where "boats assemble to sell souvenirs to visitors". It's pretty much a waste of time, a much better option for seeing a floating market is at Damnoen Saduak.
Not far away is the uninspiring snake farm, which has shows every 20 minutes or so. It doesn't seem to look after it's animals particularly well - a superior option is the snake farm near Siam Square that is affiliated with the Red Cross, is more professional and is cheaper.
Better are the Thonburi temples that follow. The huge and impressive Wat Kalaya Nimit houses a very large Buddha image and murals from the time of King Rama III. Also interesting are the Chinese statues in the grounds. South of here is Wat Prayoon wong, notably for it's artificial hill with miniature chedis, trees and a pool teeming with turtles.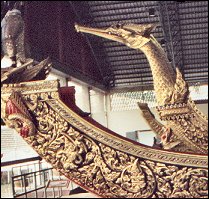 The highlight of Thonburi is the 80m high Temple of the Dawn, Wat Arun, which is also easy to visit without the longtail boat trips.
Royal Barges Museum
North of here, at the mouth of Khlong Bangkok Noi, is the Royal Barges Museum. This houses around 50 ornately designed longboats, used by the King to present robes to the monks at the Krathin festival (in October / November). The barges were restored for Bangkok's, and the Chakri dynasty's, 200th anniversary in 1982. The most prestigious and impressive of all the barges is the Sri Suppanhong, which was constructed during the reign of King Rama I (1782 - 1809). The name means "golden swan", after the swan which has been carved into the bow. This is the boat that the King himself would travel in, and it's statistics are impressive: It's 45m long, 3m wide, weighs 15 tons, and was created from a single bit of timber. It requires over 50 oarsmen, along with other crew such as a rhythm keeper, singer and a flagman. Nowadays, this spectacle only happens once every few years and should not be missed if you are lucky enough to be there at the time.
Not far away is Wat Suwannaram, which is mainly notable for it's murals dating from the time of King Rama III. They were designed by professional painters, and are considered almost universally as Bangkok's best. One depicts the ten lives of the Buddha, the other the victory of the Buddha over Mara. Wat Rakhang, near Wat Arun, is another interesting temple.