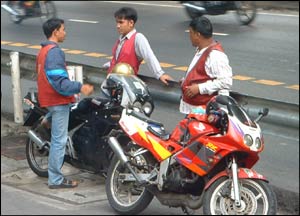 Local Thais on short journeys to and from work are the primary clientele of the motorcycle taxi drivers, but they're not adverse to tourists using their services either of course. Unlike taxis and tuk-tuks, the motorcycle taxi drivers will not cruise around looking for passengers but gather in groups at various 'stations' (win motor-sai in Thai) around the city. These are anywhere there's a substantial amount of passers-by, such as outside department stores, at the entrance of a long soi, by the exit to skytrain and subway stations etc and as such are easily found. To use one, simply walk up and state your destination and make sure to agree the price with the driver first. A motorcycle taxi driver will generally return to his station after delivering you to your destination, so he has to figure the return journey into the price too. Fares are up for negotiation, but generally they work out cheaper than taxis and tuk-tuks for short distances and more expensive for longer cross-city trips.
The main advantage of the motorcycle taxis over other forms of transport is clearly their speed and usefulness in beating Bangkok's perpetual traffic jams. As the drivers spend most of their time in a relatively limited area of town near their station they often have excellent knowledge of the nearby backstreets and shortcuts, and know the local apartments, restaurants and bars far better than taxi drivers.
Riding an motorcycle taxi is nothing if not an interesting experience - drivers will weave precariously in and out of traffic, overtake on the inside, treat one-way streets and red traffic lights as if they're optional, and frequently drive short sections along the pavement or wrong side of the road in an effort to get you there just that bit faster.
It's hardly surprising then that motorcycle taxis have a notoriously dangerous reputation, and accidents occur frequently particularly in wet and slippery road conditions. An additional substantial risk is of passengers unexpectedly getting out of cars (usually taxis) without seeing a motorbike which is overtaking it on the inside. At the speed the drivers like to travel, any kind of accident could be a serious one and if you are injured you may simply be picked up and hauled off to hospital on a passing tuk-tuk with little regard for any injuries sustained.
There's no doubt that if your main priority is solely getting to your destination as fast as possible then a motorcycle taxi is a occasional good option, but we feel the risks are too high to use them regularly for cross-city journeys on main roads.
The drivers are easily recognisable by the red jackets or orange jackets they wear, on which are written (in Thai only) the station they work from and their number. Helmets are a legal requirement for riding on a motorbike in Bangkok and should always be provided by the driver, but this is not always the case. It's worth insisting on one, as if caught by the police without one you face a 200B - 500B fine. It's unlikely the helmet you will be given could be relied on to give more than token protection in the event of a crash however.
As the average motorcycle taxi driver does not have that much contact with foreigners, their English skills are typically limited but should be enough to understand your destination and agree a price. On the plus side, this also means that the excessive pricing and involvement of scams that the tuk-tuk drivers are notorious for is hardly an issue at all with the motorcycle taxi drivers.